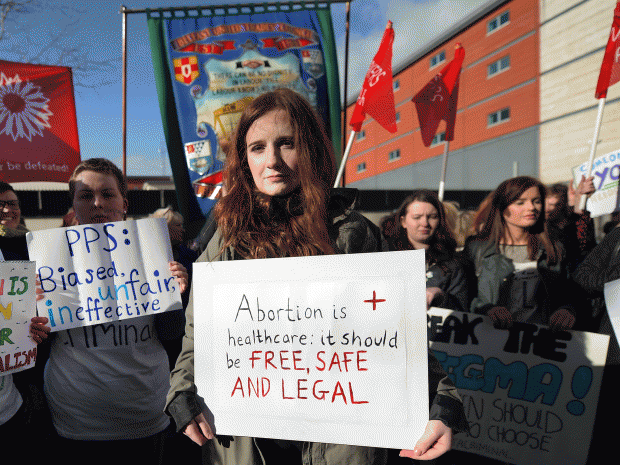 A pro-choice supporter carries a placard which reads 'Abortion is healthcare, it should be free, safe and legal' / Getty
Countries where abortion is illegal have slightly higher abortion rates than countries where the procedures are legal, the research found
Making abortion illegal does not reduce the number of terminations women have, a study has concluded.
The research, published in the Lancet medical journal, analysed the abortion rates of countries around the world where abortion is legal and those in which terminations are a criminal offence. It found that rates of the procedures were similar regardless of the legal status of abortions.
In countries where abortions are legal on a woman's request, 34 women in every 1,000 have one. In countries where abortions are always illegal or legal only if a woman's life is in danger, 37 women in every 1,000 have one.
The slight increase in rates where abortion is illegal may be due to these countries also tending to have more restricted access to contraception which increases conception rates.
The obvious interpretation is that criminalising abortion does not prevent it but, rather drives women to seek illegal services or measures.
Professor Diana Greene Foster from the University of California said of the findings: "The obvious interpretation is that criminalising abortion does not prevent it but, rather drives women to seek illegal services or measures. But this simple story overlooks the many women who, in the absence of safe and legal services, carry unwanted pregnancies to term. Women who live in countries where abortion is illegal often have little access to the whole range of family planning services, including contraceptive supplies, counselling, information and safe abortion."
A spokesperson for Marie Stopes International said: "This study reinforces the fact that restricting access to abortion makes no significant difference to the number of women who choose to have one. Instead, restrictions make it more likely that women will turn to unsafe practitioners, whose methods range from counterfeit drugs to industrial poisons or wire coathangers. Every 11 minutes, a woman dies from complications related to unsafe abortion. In 2016, this is unacceptable and entirely preventable."
http://www.independent.co.uk/life-style/health-and-families/health-news/women-in-countries-where-abortion-is-illegal-just-as-likely-to-have-one-as-countries-where-it-is-a7025671.html
Rate this:
Share what you read here:
Related