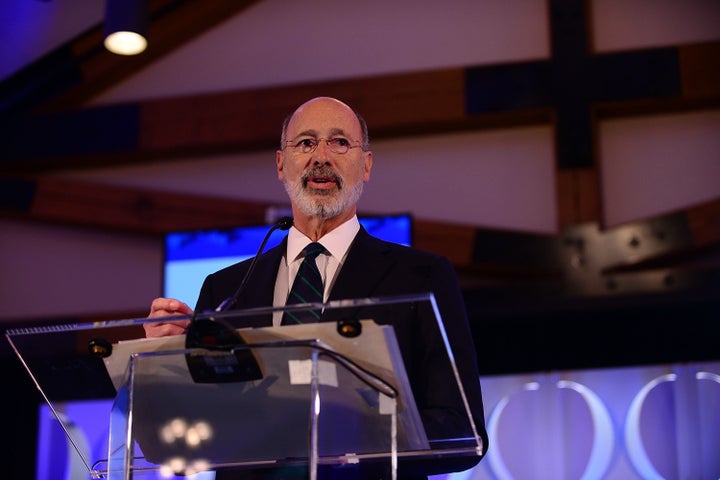 Pennsylvania Gov. Tom Wolf (D) has reaffirmed his intention to veto a highly controversial bill passed by his state's Republican-controlled legislature to restrict abortions after 20 weeks.
"This bill is an attack on women, and it should never have reached my desk," Wolf said in a tweet posted Wednesday. "I will veto it, because all Pennsylvania women deserve to make their own health care decisions."
SB3 represents "the most extreme restrictions" on abortion in the country, according to Planned Parenthood.
Pennsylvania currently allows abortions up to the 24-week mark. SB3 would roll back that limit, allowing abortions after 20 weeks only in rare emergency situations, with no exception for cases of rape, incest or fetal abnormalities.
The measure would also criminalize a certain medically accepted abortion procedure known as "dilation and evacuation," although SB3 refers to it as "dismemberment abortion." Were the bill to become law, Pennsylvania would become one of nearly 20 states that have laws banning abortion after 20 weeks ― but experts say the so-called "dismemberment" ban is unprecedented.
In a statement issued Tuesday, the governor called SB3 an "an assault on the doctor-patient relationship by politicians without medical or health expertise."
"We've got to keep politics out of the doctor's office," Wolf told HuffPost in March, after holding events with doctors and women who have had the same kind of late-term abortions that would be restricted if the bill became law.
"When people are choosing where to go to school or begin their professional lives or where to start their business or family, Pennsylvania has got to show that it's open to them," he continued. "This bill just says the reverse, that you can't make your own decisions here, this is not a place where we value freedom of conscience."
Supporters of the bill argue that 20 weeks is the threshold at which a fetus can begin to feel pain, a statement debated by doctors.
The bill's opponents ― a group that includes the Pennsylvania Medical Society ― argue that some fetal abnormalities are only discovered after the 20-week mark, while others fear that such bans aim to erode Roe v. Wade.
Source: https://www.huffingtonpost.com/entry/pennsylvania-governor-abortion_us_5a317c9be4b091ca2684f0cf