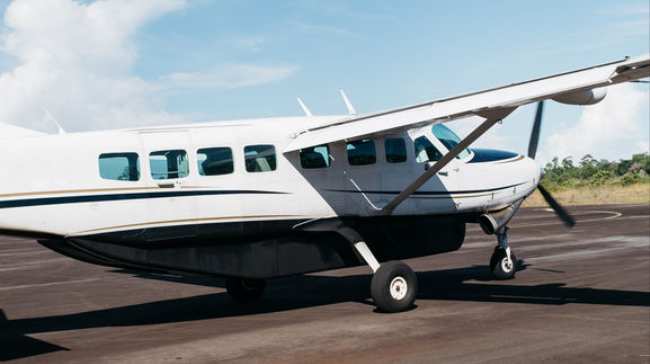 Photo by Koen Meershoek via Stocksy.
When I type the phrase "abortion care near me" into the Google Maps search function, I find myself perusing many more listings than I had anticipated, considering I live in the South. While the first result, A Preferred Women's Health Center of Augusta, is indeed an abortion clinic that offers both medication and aspiration abortions, the next option, Pregnant Choices, actually advertises offering pregnancy testing, limited OB ultrasounds, and peer counseling. The so-called clinic's website also includes the ambiguous message in bold lettering on its homepage: "Thinking About Abortion? Be Empowered! Know Your Options!"
Both of these results are paid advertisements (as indicated by an icon that reads "Ad") delivered by Google; only one, however, clearly offers abortion care.
Accessing abortion services is difficult enough without having to muddle through confusing online search results. Thanks to an onslaught of state restrictions in the last few years, many clinics in the US have been forced to close, leaving patients in some cities having to drive more than 100 miles to the nearest facility to get the reproductive health care they need.
That's why on Wednesday, women's advocacy organization Ultraviolet sent a plane to fly above Google's annual shareholder meeting in California with a message: The banner trailing the small plane read "Accessing Abortion Care? Google Lies."
It's actually not the first time Ultraviolet and other organizations have called on Google to fix its search functions to weed out these crisis pregnancy centers—critics often refer to them as "fake health clinics" because they often counsel women against having abortions—from online results. Last month, activists with Ultraviolet and CREDO delivered a petition to company executives with more than 100,000 signatures during Google's annual developer conference.
In 2014, Google actually removed advertisements to these misleading sources after being pressured by abortion rights groups such as NARAL. According to a reportpublished in February from Gizmodo—and my own assessment—those paid ads are back.
In a letter sent yesterday to Google CEO Sundar Pichai, Ultraviolet, Advocates for Youth, the National Women's Law Center and other groups pointed out the important role the tech company plays in helping women access reproductive care. "Google is consistently the first place that millions of women visit when they think they may need an abortion, because people trust Google to be an honest broker of accurate information," the letter stated. "Until you resolve this, Google is not deserving of this trust. Just as Google ensures that various targeted communities do not fall victim to predatory businesses, Google should take care not to direct individuals needing medical care to sham providers."
A request for comment from Google has not been returned as of press time.
Karin Roland is the chief campaigns officer at Ultraviolet. She tells Broadly that by allowing crisis pregnancy centers to thrive in its paid advertisements and search function results, Google is "complicit" in the anti-choice agenda being promoted by these centers. "If you are a woman looking for an abortion who isn't aware of these clinics, which most people don't even realize they exist, it is incredibly easy to accidentally end up in a clinic and think you're talking to an actual medical professional and actually instead be talking to people with a political agenda who are posing as medical professional and lying to you," she says.
The repercussions of not addressing these false search results can be dire and life-changing. Roland says she's heard stories from women who've accidentally gone to these clinics instead of a legitimate abortion facility; they were told they weren't pregnant, that their medical complications weren't that serious, and that abortion leads to mental illness or infertility. (It doesn't.)
"There are so many places in which abortion access is under attack," including on the state and federal level, Roland says. "I think Google has an obligation to not be a part of that attack. They must take action to uphold their own policies and ensure critical, in some cases potentially life-saving, information women are searching for … [is] accurate."
Source: https://broadly.vice.com/en_us/article/qvnemp/abortion-activists-google-plane-protest