Poland's top court has ruled that abortions in cases of foetal defects are unconstitutional.
Poland's abortion laws were already among the strictest in Europe but the Constitutional Tribunal's ruling will mean an almost total ban.
Once the decision comes into effect, terminations will only be allowed in cases of rape or incest, or if the mother's health is at risk.
Rights groups had urged the government not to increase restrictions.
The Council of Europe's commissioner for human rights said the day marked a "sad day for women's rights".
"Removing the basis for almost all legal abortions in Poland amounts to a ban and violates human rights," Dunja Mijatovic wrote on Twitter.
A legal challenge against the 1993 law permitting abortion in cases of severe foetal disabilities – which accounts for 98% of terminations carried out in Poland – was launched by MPs from the ruling nationalist Law and Justice party last year.
A majority of the court's judges were nominated by the same party.

What court's decision means for Poland

Almost all legal abortions in Poland are performed on the grounds of foetal defects, so this ruling, which is final and binding, effectively bans pregnancy terminations.
Poland is one of Europe's most strongly Catholic countries, but there was no public clamour for this. For years opinion polls said a clear majority of Poles opposed a more restrictive law.
Bishops and lay Catholic groups pressured the governing Law and Justice party to impose a stricter law. The party supports traditional Catholic values but changing it was problematic. There was opposition both in parliament and on the streets. In 2016 an estimated 100,000 people, mostly women, protested to block an attempt to tighten the law.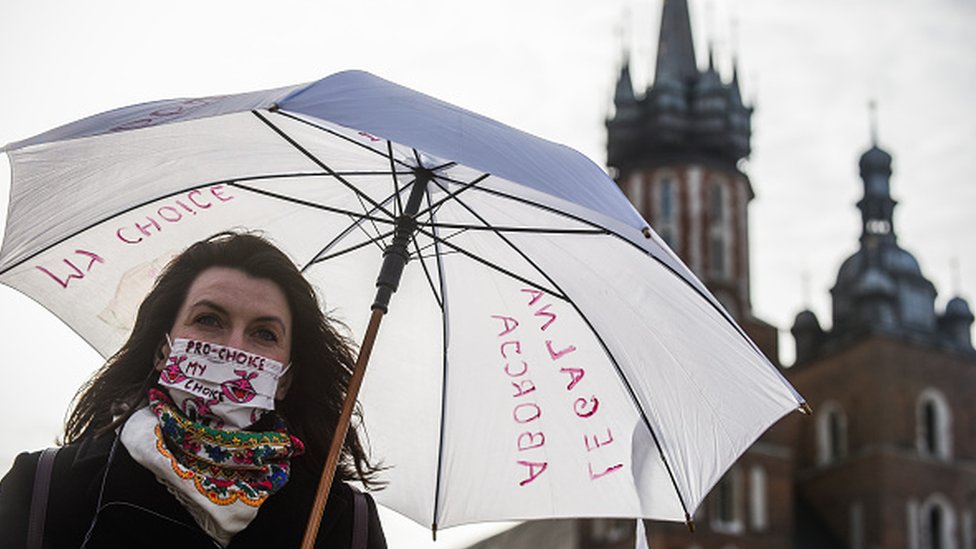 Late last year a group of governing party and far-right MPs decided to ask the court to decide the issue. This was convenient because a majority of the court's judges were nominated by Law and Justice. It would also avoid a stormy and emotional parliamentary debate and accompanying anger on the streets in those pre-Covid days.
Now, with public gatherings limited to a maximum of 10 people in most major cities, opponents of this change will have to find other ways to show their anger.
There were just over 1,000 legal pregnancy terminations in Poland last year.
Compare that with this statistic: women's rights groups estimate between 80,000 and 120,000 Polish women a year seek an abortion abroad. Even women who qualify for a legal procedure often face challenges to having one: such is the stigma surrounding the issue.

Malgorzata Szulecka, a lawyer for the Helsinki Foundation for Human Rights, told the BBC: "This is a totally unjustified decision that will lead to inhuman treatment of women."
Ahead of the ruling, Polish sexual and reproductive health and rights activist Antonina Lewandowska told the BBC that the defence of the 1993 law was based on UN rules outlawing torture.
"It's inhuman, it's despicable honestly to make anyone carry a pregnancy to term, especially if the foetus is malformed, and 98% of legal abortions carried out in Poland are due to foetal malformations," she said.
International human rights groups opposed the government's stance, with Amnesty International, the Center for Reproductive Rights and Human Rights Watch saying they would send independent monitors to the court.
"The Constitutional Tribunal's upcoming proceedings take place in the context of repeated government attacks on women's rights and efforts to roll back reproductive rights, as well as legal and policy changes that have undermined the independence of the judiciary and rule of law in Poland," they said in a joint statement.
Source: https://www.bbc.com/news/world-europe-54642108?fbclid=IwAR2FnJCAdFObz8qTB3cFn-QJSKTOPGPcTbk4Yc_VL_S7DWnZ243591Q6Cuo