Gibraltar voted to relax its tough anti-abortion laws in a referendum on Thursday.
The tiny British territory has some of the harshest abortion laws in Europe – the penalty for breaching the law is life imprisonment.
Voters backed relaxing the rules to allow abortions where a woman's mental or physical health is at risk or when foetuses have fatal physical defects.
Some 62% voted to change the law, with 36% voting against.
Unlike in England, Scotland and Wales – where abortion can legally be performed – abortion in Gibraltar is punishable by life imprisonment, though no-one has ever been convicted in modern times.
Until now, women wanting to have an abortion have had to travel to Spain or Britain.
Gibraltar's voters were asked to approve a change to the law to allow abortions within 12 weeks of pregnancy if going ahead would be riskier to the woman's mental or physical health – such as in cases of rape or incest – or afterwards, when foetuses have fatal physical defects.
Out of some 12,343 voters, 7,656 voted "yes" and 4,520 voted "no". When the result was announced, "yes" supporters greeted the news with loud cheers.
Gibraltar's government would implement the new laws within 28 days, said Chief Minister Fabian Picardo, who supported the "yes" campaign.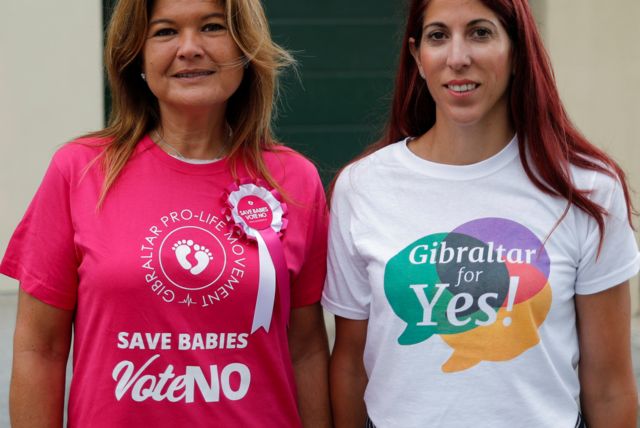 He also pledged to introduce counselling and support services "to ensure that any woman who calls at the doors of the Gibraltar Health Authority believing that she needs an abortion will have the support that she needs".
The referendum, delayed by a year due to Covid-19, exposed deep divisions within the territory's close-knit 32,000 population.
Some anti-abortion campaigners branded the proposed law's wording extreme, arguing it could be interpreted as allowing abortion beyond the first 12 weeks.
"Yes" campaigner Isobel Ellul hailed the result, saying voters had made history.
"Today Gibraltar voted yes – yes for human rights, yes for women and girls, yes for trusting doctors and healthcare professionals, yes for choice, yes for compassion and empathy," she said.

Abortion laws
In Gibraltar, except in cases where it would save the mother's life, abortion is currently punishable by life imprisonment, although this has not been used in modern times
In the EU, abortion on request (where the decision is made by the woman alone) is legal in Austria, Belgium, Bulgaria, Croatia, Cyprus, Czech Republic, Denmark, Estonia, France, Germany, Greece, Hungary, Ireland, Italy, Latvia, Lithuania, Luxembourg, Netherlands, Portugal, Romania, Slovakia, Slovenia, Spain and Sweden
Six European countries – Malta, Andorra, San Marino, Monaco, Liechtenstein and Poland – do not allow abortion on request or have restrictive laws
Abortion is legal in Spain in the first 14 weeks of pregnancy
Abortions can legally be performed in England, Wales and Scotland before 24 weeks. In some cases – such as if the mother's life is at risk – they can be carried out after 24 weeks
In Northern Ireland, abortion was decriminalised by the British parliament in 2019, though women still face challenges accessing abortions
Source: https://www.bbc.co.uk/news/world-europe-57606228.amp?fbclid=IwAR3LyEXVIGrwk1bzGB3EQwwLZgGFnZ7eoi323Qw14uq1B5ixs8HEeEsqDKo