In a typical year for the Midwest Access Coalition (MAC) — a practical abortion fund based in Chicago, Illinois — the group would service around 30 clients per week, providing a wide range of support services to abortion patients traveling to and within the Midwest.
In the weeks following the overturn of Roe v. Wade by the U.S. Supreme Court, Director of Strategic Partnerships Alison Dreith said the organization is assisting nearly 200 clients weekly, a jump she described as "dramatic" and "overwhelming."
Founded in 2014, MAC has assisted clients in all 30 states of the Midwest to access safe and legal abortion. Dreith said that the group focuses on providing practical support for abortion rather than funding the cost for the procedure itself, which includes facilitating travel logistics and covering costs such as food, lodging and even childcare for patients traveling with families.
Dreith said that as of a year ago, MAC had only one paid full-time staff member. Now the nonprofit has five full-timers, and is actively hiring as the demand for practical abortion care rises. She said that the organization is so in need of help they are willing to get people in the door "as soon as we have a resume."
Since the Supreme Court's decision in Dobbs v. Jackson, which took away the federal protection for abortion, many patients that MAC sees are traveling to Illinois for abortion care, as it is the only state in the Midwest that continues to protect abortion, according to the Guttmacher Institute Abortion Policies map. The "safe-haven" state, as it is called by Illinois Governor J.B. Pritzker, provides a glimpse into what abortion clinics across the country are facing as patients travel far and wide for legal abortions.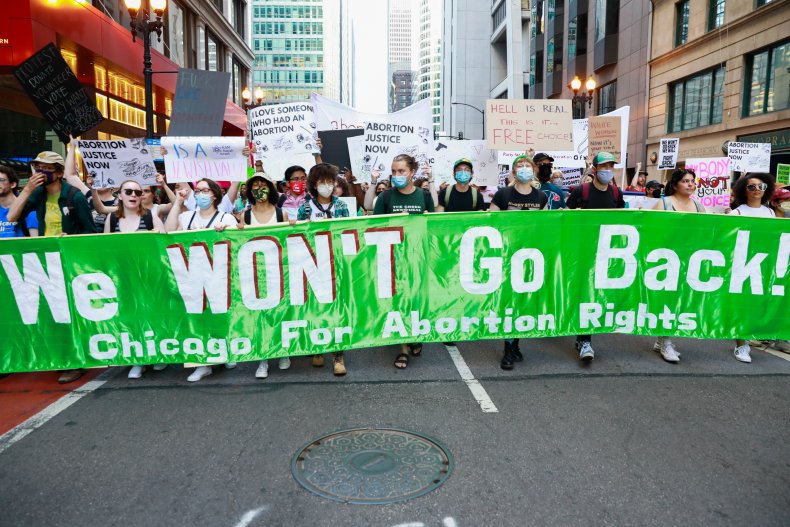 Like many abortion activists, Dreith said that MAC has been preparing for the end of Roe since 2019, when 17 states passed laws that placed restrictions on abortion access. Missouri, which borders Illinois, adopted legislation that would ban all abortions once Roe was overturned. In response to several conservative lawmakers slowly stripping away abortion rights, Dreith said that MAC started to build stronger connections with abortion funds and clinics throughout the Midwest. She credited those relationships for helping MAC to meet the increased need now for safe and legal abortions.
"When other abortion funds and practical support organizations have been filling my inbox quite rapidly since the Dobbs decision, asking to be in partnership with us," Dreith said, "it felt really good to have the surrounding states to Illinois kind of already supporting each other in that work and not having to do it in a moment of crisis."
In addition to facilitating relationships for MAC full-time, Dreith also works part-time at an abortion clinic. She said that clinics are working tirelessly to address the increased need for abortion access by expanding hours and opening new locations where possible. Dreith said that life inside the clinic can be hard on workers who are already potentially making below a living wage.
"I wish we would take care of ourselves a little bit better," she added, "and I think we would do better at servicing the patients and the clients we see, too."
Planned Parenthood, the most prominent operator of abortion clinics in Illinois, has been significantly impacted by the SCOTUS decision. Chief Medical Officer Amy Whitaker told Newsweek that in the week following the overturn of Roe, Planned Parenthood Illinois scheduled over 750 appointments for out-of-state patients. By contrast, she said that in a normal year her clinics usually serve around 100 out-of-state patients in an entire month.
Planned Parenthood has 17 clinics throughout Illinois, all of which are able to provide oral abortion medication, with five of the clinics equipped to provide in-clinic abortion procedures. Whitaker said that the clinics have not seen any serious wait times due to the influx of patients, an important factor in what can be a time-sensitive procedure. However, she said the staff at abortion clinics have been dealt a "draining" task.
"I will say for me personally, I've done a lot of crying," Whitaker said. "I find it very emotionally upsetting to see how much burden is being put on these patients."
She said that out-of-state patients have come from as far as Arizona and Florida to find abortion treatment in Illinois. And while clinics have found a renewed sense of the importance of their work in wake of the influx, Whitaker can't help but think of teams just like hers in states that have stripped away abortion access.
"Our team is really honored to be able to take care of [out-of-state patients] and are qualified and competent," she told Newsweek. "But it's heartbreaking to know they come from a state where there's another group of equally competent trained people who are excellent health care providers and have every bit as much capability and skill to see these patients."
Illinois lawmakers passed several bills to ensure protection of abortion access long before the SCOTUS's decision to overturn Roe. In 2019, while other states were placing heavy restrictions on abortion, the state legislature signed into law the Illinois Reproductive Health Act. The bill protected access to abortion by requiring all public and private health insurance to cover the procedure, as well as expanding the pool of abortion providers beyond just trained physicians.
Whitaker said that although Illinois has come a long way to protect abortion more can always be done, such as increasing government funding for abortion clinics to treat both Illinois patients and others that the state has promised to protect.
"We are a safe haven in Illinois right now," she said, "but there's more that we can do and there's more that we want to be able to do."
The staff at Planned Parenthood has made it a priority to take care of each other now more than ever, Whitaker said, with conversations and expressions of gratitude among teammates increasing along with the number of patients. She said the staff includes behavioral health physicians who are available to staff members when "casual conversations and jumping in and being in this together are not enough." Planned Parenthood is also currently working to hire more behavioral health personnel.
"We have a motto at Planned Parenthood of 'in this together,' and we always operate on that model," Whitaker said. "But it definitely comes up stronger and more urgently when we're in a situation like this."
Source: https://www.newsweek.com/illinois-abortion-clinics-swamped-out-state-patients-after-end-roe-1729310